ETA: Just heard back from the local paper – they want me to ring them and tell them about Lucius and his mysterious journeys!
Lucius the Wanderer is back. Again.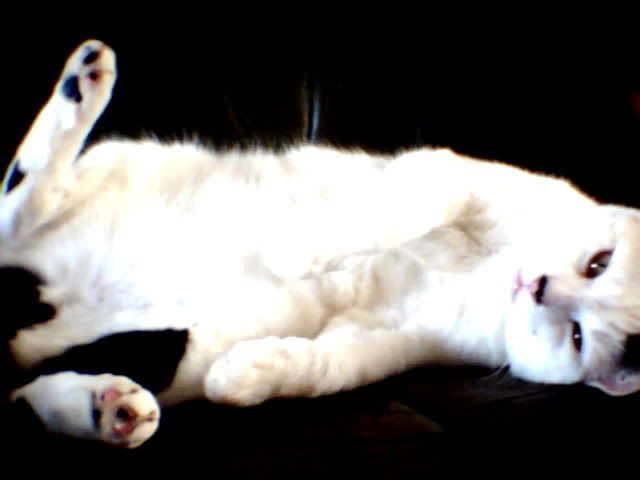 Three months almost the day, I think… *checks* 25th July it was when he came back last, and he stayed 2 weeks. He's in beautiful condition, if a little too light, and very hungry. He hasn't even got a flea dirt on him, so it's clear he's not living rough because someone is obviously treating him. God it's good to see him. I even had a feeling yesterday that he'd be back today -or perhaps it was because he knew I wanted him back today that he came back today. He won't stay, and the balance in the house is disturbed all over again, but still nice to see him.
I know how unlikely it sounds, even to myself. I've been fooled by so many stupid sock puppet stories. What I think I'll do is write to the local paper – it's a "local interest" story which they might like – and it would be good to know who else is fostering him. I will definitely get a collar this time – with one of those little barrels with my phone number and a tiny message in it – at least then someone can ring me and tell me he's safe. There's never going to be a way I can force him to stay- although I really wish he would. He's stuffed his face, and now he's in his basket. I can never face putting his basket away, just in case "today" is the day he comes home. I do wish he'd stay.
Severus is, of course, upset again. It's really not fair.
True Blood. Aww Billy-Bob the Vampire is such a gennleman caller! *squishes him*
Only a few sporks today.Tired, and I think I can see the end of it.
– they are sitting in a lighted room in a busy street in the dark. They kiss. They embrace. THEN they shut the curtains. er. No. 17th century remember?
– if he strips off down to his under-breeches, hose and shirt, he can't be wearing his ordinary breeches when he wakes up.
– What, pray, is a "half-wounded adversary"?
&copy Copyright 2008 Erastes, All rights Reserved. Written For:
Erastes